The day after my birthday, we went to Florence and spent most of the day going to the Uffizi Gallery. By most of the day, I mean 2+ hours in line and about 3.5 hours in the galleries! Since Karen did art studies with the boys, I had been very anxious to see some of the works of these artists that we had studied: Cimabue, Giotto, Botticelli, Michelangelo, Leonardo, and in the nearby Piazza del Duomo - Ghiberti's bronze doors.
If I had to pick a favourite artist at the Uffizzi, I think it would be Botticelli. I love the beautiful colours, smooth surfaces, perfect detail of his paintings. Maybe also because there was a whole room devoted to him and some of the paintings are so large that they just are so impressive - Birth of Venus, Spring, Madonna of the Pomegranate, Madonna of the Magnificat, The Annunciation and the Adoration of the Magi.
Now that we are speaking of the Annunciation, I never realized that there were so many paintings of this event in the Uffizi and, in fact, in all of Italy. Here are a few of my favourites for your comparison:
The Annunciation - Leonardo Da Vinci and Andrea del Verrocchio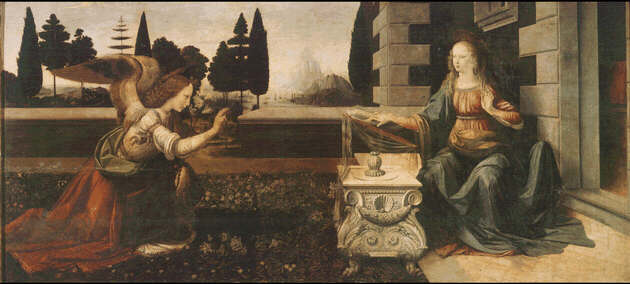 The Annunciation - Sandro Botticelli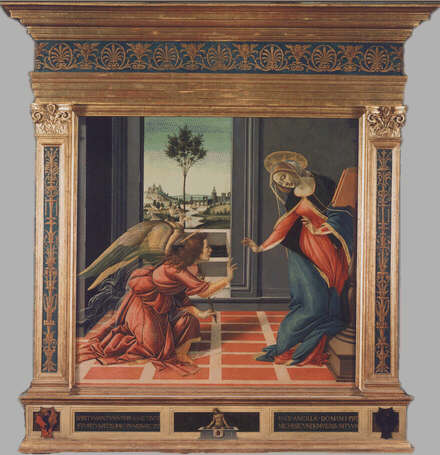 The Annunciation - Fra Fillipo Lippi (In the San Lorenzo Church)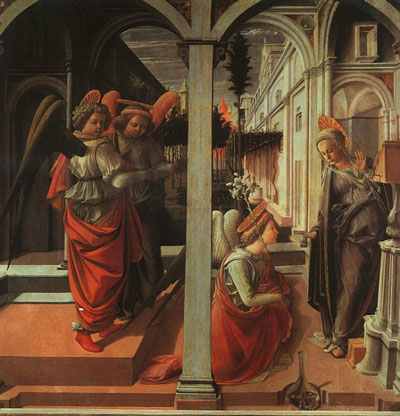 Another by Fra Fillipo Lippi
Of course, also at the Uffizzi is one of Michelangelo's most famous paintings outside of the Sistine Chapel: The Holy Family, the Tondo Doni. It is a very beautiful painting of the Holy Family and you can spend a long time just staring at it. I wonder why he portrayed Joseph as being so much older than Mary?